GENERATORS
High-efficiency synchronous generators made by WKV. An indestructible design and excellent efficiency for reliable energy production.
GENERATORS FOR GENERATIONS
The effectiveness of a generator is determined by the interaction between the main generator (internal pole machine) and the excitation generator (outer pole machine). That is the principle. The secret of our high-performance synchronous generators lies in every detail of our in-house developments. The entire construction is designed for durability and maximum resilience in continuous operation. This can be seen just by glancing at the massive components and the careful processing. So that our customers can obtain optimised electrical energy from every drop of water throughout many years.
Brushless Threephase High-Efficiency Synchronous Alternators - series HEG
Requests for alternative mechanical and electrical design, also multi-pole alternators for Kaplan drives are always welcome.
Enclosure type
EN 60034-5 / VDE 0530-5
Standard design is IP23. Application of air inlet/dust filters as well as higher protection mode as IP43, IPR 44, IPR 54, IP44 and IP54 etc. are available on request.
Cooling mode
EN 60034-6 / VDE 0530-6
Standard design is IC01, direct air-ventilated. IC31 (cooling air channel connection), IC0161 (top-mounted air-to-air heat exchanger), IC8A1W7 (top-mounted water cooler) or any other solution can be offered on special request.
Design
EN 60034-7 / VDE 0530-7
The basic design modes are IM1001 (B3) and IM1101 (B20) for horizontal mounting and IM 3011 (V1) for vertical mounting.
Principally we confirm for WKV alternators: Every requested design our customers need is possible!
OWN TEST FIELD
Testing and Quality Assurance
The WKV alternator test facilities in Gutach/Germany with a total prime mover capacity of 1,200 kW, most-modern measurement technologies, a comfortable visitor's area with every conveníence and a highly motivated team of assayers offers optimal conditions for both standard testing and sophisticated FATs.
After manufacturing, every WKV alternator is taken to our most-modern test facilities. Our customers are provided with a comprehensive test report for every single alternator. Customers are always welcome to inspect the factory test procedure and to check all the complete measuring and test reports that have been compiled during the entire production process.
Last but not least: Enjoy the typical Black Forrest hospitality on a factory tour associated with the testing of "your" machine!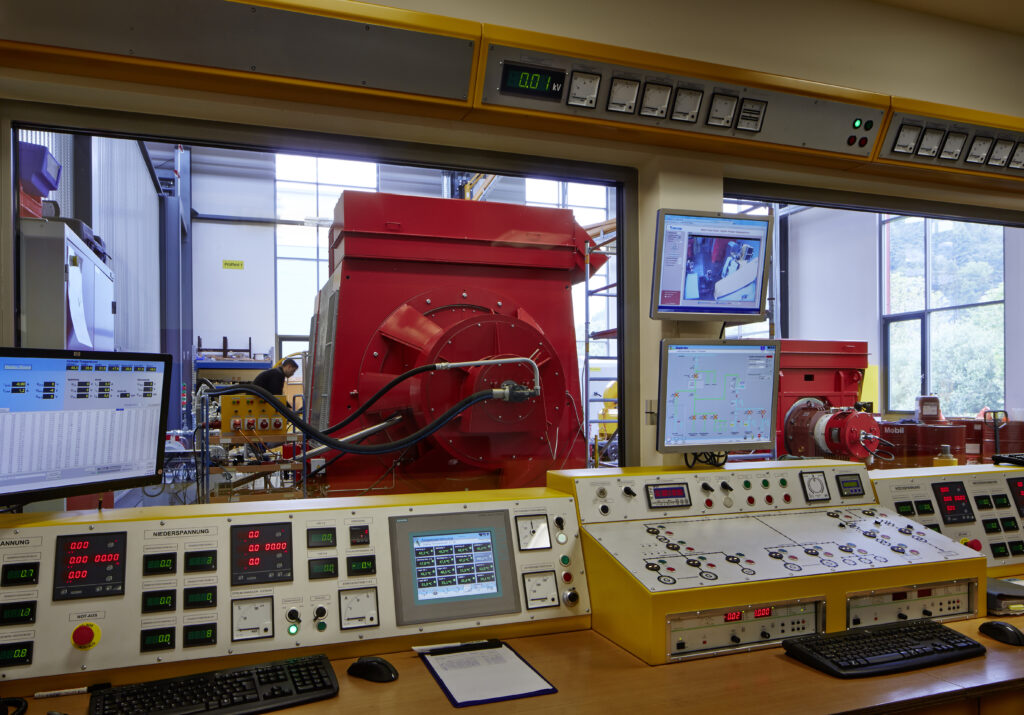 QUALITY IS THE NORM
Of course, our generators comply with all international standards such as IEC 34-1, EN 60034-1, VDE 0530, BS 4999, IEEE, NEMA MG1 et cetera. We can also offer ship classifications such as ABS, BV, CCS, DNV, GL, LRS, MRS, RINa etc. We are glad to implement special designs and special projects on request.
EXCELLENCE MATTERS
The initial conditions are the same for all manufacturers of generator technology. In the end, what matters is what you make out of the physics.
At WKV AG, you benefit from numerous advantages:
Highly qualified team of designers, engineers and technicians
Highest efficiencies, measured and guaranteed
Flexibly adaptable to on-site requirements
Meticulous handwork and machine precision
Quality assurance through tests in our own test facility
Highest material quality for a long lifespan
Conservative design for the best longevity — no borderline designed "heaters".
Engineering, manufacturing and implementation under one roof
Optimised generators, magnetic and electrodynamic